After a 15-Year Absence, Christopher Eccleston Returns to 'Doctor Who' in 'The Ninth Doctor Adventures' Audio Series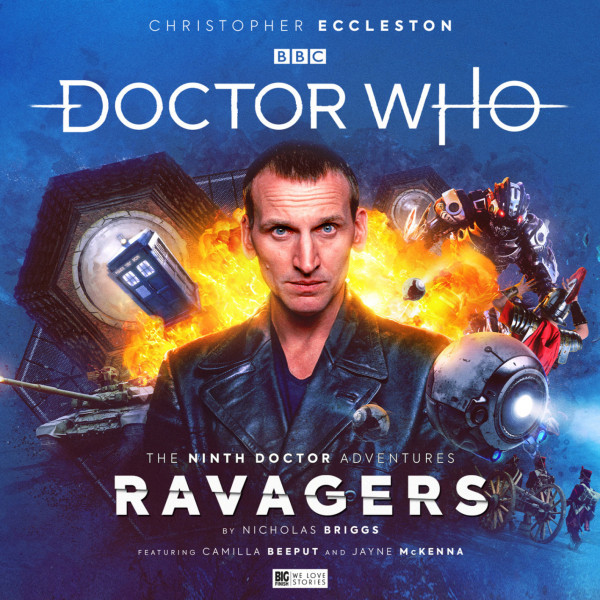 When Doctor Who returned as an ongoing TV series in 2005, fans old and new were introduced to the Ninth Doctor, portrayed by Christopher Eccleston. He played an incarnation of The Doctor who is haunted by the results of the Time War, a Doctor who feels alone in the universe with his homeworld Gallifrey gone. Though Eccleston only had one 13-episode series as The Doctor, he became a favorite among some fans who have been clamoring for his return to the franchise.
However, some remarks over the years cast a lot of doubt that he would ever return to the franchise. When Eccleston's departure was announced in March 2005, BBC said that Eccleston was afraid of being typecast and that he found the show to be tiring and demanding. However, Eccleston had not said any of this before the BBC released it, and they issued an apology. In 2010, speaking about his departure, Eccleston said, "I didn't enjoy the environment and the culture that we, the cast and crew, had to work in. I thought if I stay in this job, I'm going to have to blind myself to certain things that I thought were wrong." Despite this, he said that he was proud of his portrayal of The Doctor.
There was a chance for him to return onscreen in 2013 for the 50th anniversary special "The Day of the Doctor," but he declined showrunner Steven Moffat's offer. Last year, at Rose City Comic Con, Eccleston explained, "I didn't feel that what they were asking me to do did justice to the Ninth Doctor. So I said no." While Moffat could have easily put Eighth Doctor actor Paul McGann in the role he had in mind, the showrunner has said that he could not imagine McGann's Doctor as the one who fought the Time War. So he came up with the idea of John Hurt playing The War Doctor, a secret incarnation between the Eighth and Ninth Doctors. McGann ended up returning for "The Night of the Doctor" minisode, which showed the Eighth Doctor's regeneration into The War Doctor. Notably, it mentioned a few of Eight's companions from Big Finish stories. Hurt's performance in "The Day of the Doctor" was met with positive reception, but there were still fans who cheered when Eccleston appeared in the special for a few seconds, even though it was via archive footage.
Now, the die hard Ninth Doctor fans have gotten their wish (at least in audio form), and it came as a surprise on Sunday. Big Finish Chairman Jason Haigh-Ellery approached Eccleston at a fan convention last February. Glad that the fans remember and love his incarnation, Eccleston agreed to return in an audio series titled The Ninth Doctor Adventures, which will have four volumes, each containing three stories. Big Finish Creative Director Nicholas Briggs says, "Working with Chris was a very special time for me. The beginning of my Doctor Who TV career. So, writing for and directing him feels incredibly exciting. He's such a powerful performer and it'll be amazing to work with him again."
With the Ninth Doctor having previously been voiced by Briggs and Jacob Dudman in audios, there was a question of whether either of them (or even Eccleston himself) would voice the Ninth Doctor in the multimedia project Time Lord Victorious. Announced a few months ago and said to involve the Eighth, Ninth, and Tenth Doctors, my assumption was that the Ninth Doctor would not get an audio story, and that guess turned out to be correct, with Paul McGann and David Tennant getting audios and Nine being slated for appearances in Doctor Who Magazine story Monstrous Beauty and BBC Books multi-Doctor novel All Flesh is Grass. Though Eccleston is not included in that particular event, it is still a breath of fresh air knowing that he will get to breathe life into the Ninth Doctor again in his own audio series.
It is currently unknown when in the Ninth Doctor's timeline The Ninth Doctor Adventures will take place. Theoretically, it could cover adventures between his regeneration from The War Doctor and his meeting with Rose Tyler. It could even be some adventures in the middle of the last scene of "Rose," after Rose first declines his offer to travel with him and before he returns and mentions the TARDIS is also a time machine. Perhaps Rose Tyler and even Jack Harkness could be involved in his adventures, seeing how Billie Piper and John Barrowman have already done work with Big Finish. Even if some of the periods in Nine's timeline have been covered in books and comics, Big Finish has not always felt the need to abide by what has been done with Doctor Who in other media. Plus, a space/time travel franchise like Doctor Who is very fluid when it comes to continuity.
In any case, it will be gratifying for fans to hear Eccleston in the role again. Perhaps this may open doors to Eccleston popping up in other audios, or even onscreen for a 60th anniversary special or something of the like, depending on how he currently feels about the television side of things. Even if he just remains on the audio side of things, this is a victory for Doctor Who fans.
The first four volumes of The Ninth Doctor Adventures are slated to be released May 2021, August 2021, November 2021, and February 2022, respectively. They are each available in three formats to pre-order from Big Finish's website: digital ($19.99), CD ($32.61), and limited edition vinyl ($46.97).
Source(s):
BBC
,
Big Finish
,
DoctorWho.tv
,
Radio Times