Hasbro Reveals New 'Star Wars' Products for Blacks Series, Vintage Series, and Celebrate the Saga Packs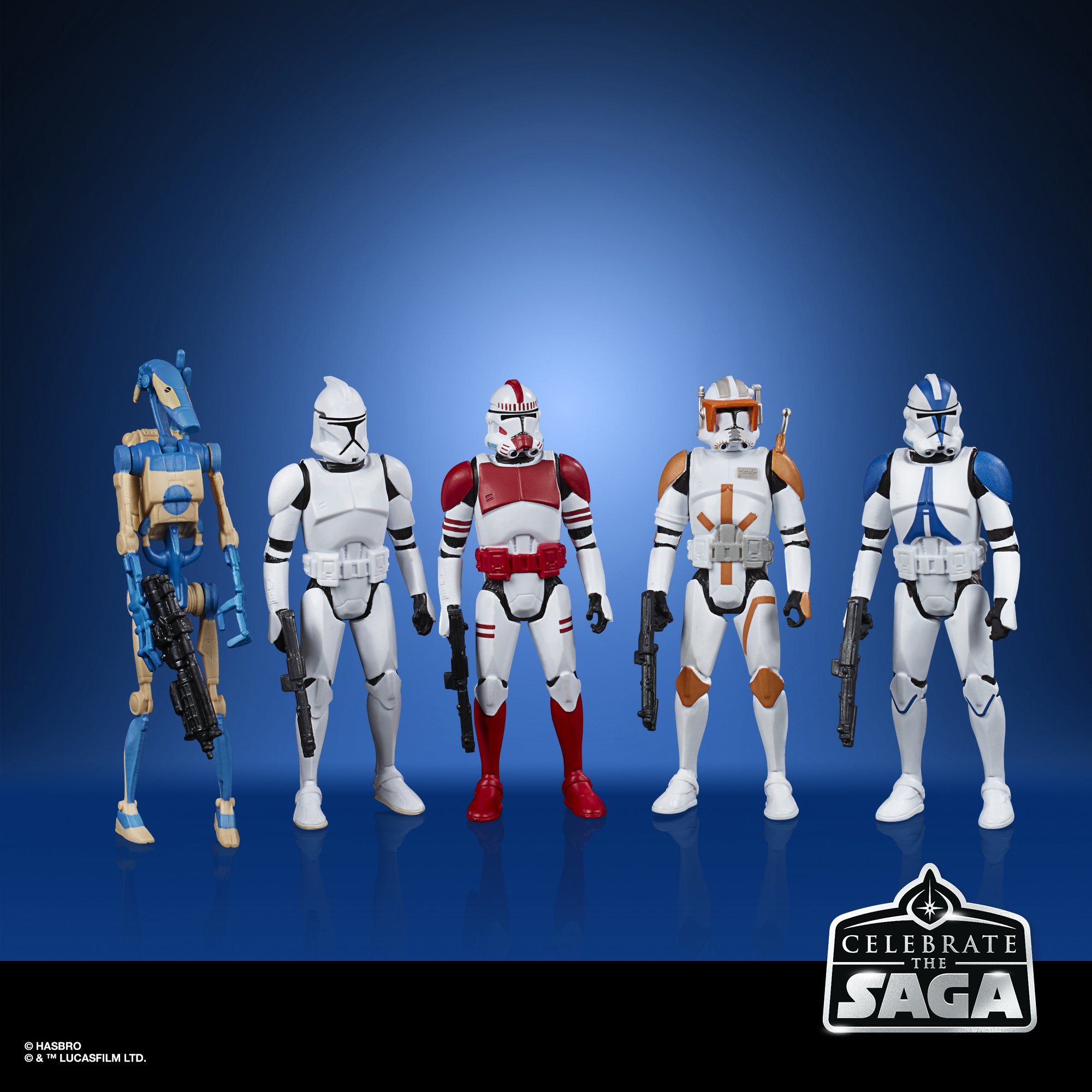 A Fan First Friday livestream event was held by Hasbro Pulse, and the showcased products included some Star Wars figures that are sure to intrigue some of that space franchise's fans. The reveals included new additions to the Black Series, the Vintage Series, and the Celebrate the Saga packs.
Over on the Black Series front, one of the products being put out for this line is the Emperor Palpatine Force FX Elite Lightsaber. This includes sound effects and LED tech that make it easier for people to imagine that they are swinging an actual lightsaber around. It will, however, require three 1.5 AA batteries, which are not included. The approximate retail price for this one is $224.99.
As for figures in the Black Series, one of them is the 6-inch Phase One Clone Trooper Lieutenant, as featured in Star Wars: Episode II – Attack of the Clones. This figure will be on sale for $19.99. However, if you would rather have a more villainous trooper for just $5 more, the Black Series is also releasing a 6-inch Purge Trooper, as featured in last year's video game Star Wars Jedi: Fallen Order. This comes with its own electrostaff (scaled down to fit the trooper figure, of course).
Moving on to the Vintage Series, we have a few selections, each coming in at 3.75 inches. Longtime fans of Star Wars: The Clone Wars and/or fairly newer fans who have been to Galaxy's Edge will recognize a fan favorite: Hondo Ohnaka, that hilarious old pirate. This particular figure includes original Kenner branding, which will look very familiar to longtime Star Wars toy collectors. This is currently priced at $12.99. There will also be a Darth Vader figure inspired by his appearance in the hallway at the end of Rogue One: A Star Wars Story. Speaking of spooky hallways, the Vintage Series is also including a Tantive IV hallway playset.
Now for the Celebrate the Saga packs, which contain figures that are also no more than 3.75 inches. This line is putting out eight different packs each at $29.99. Most of them are 5-packs, the exceptions being the 6-packs containing Resistance figures and First Order figures. That latter of those packs includes BB-9E, a mouse droid, General Hux, Captain Phasma, a First Order trooper officer, and a flametrooper. Also on the dark side, we have the Galactic Empire pack, which includes a stormtrooper squad leader, a TIE pilot, a snowtrooper, a scout trooper, and R2-Q5. Sith pack containing Emperor Palpatine, Darth Maul, Darth Vader, Kylo Ren, and TC-4. The latter is a deep cut, as it is Palpatine's protocol droid who was cut from The Phantom Menace. We also have a bounty hunters pack showcasing Boba Fett, Jango Fett, Bossk, IG-88, and R5-P8.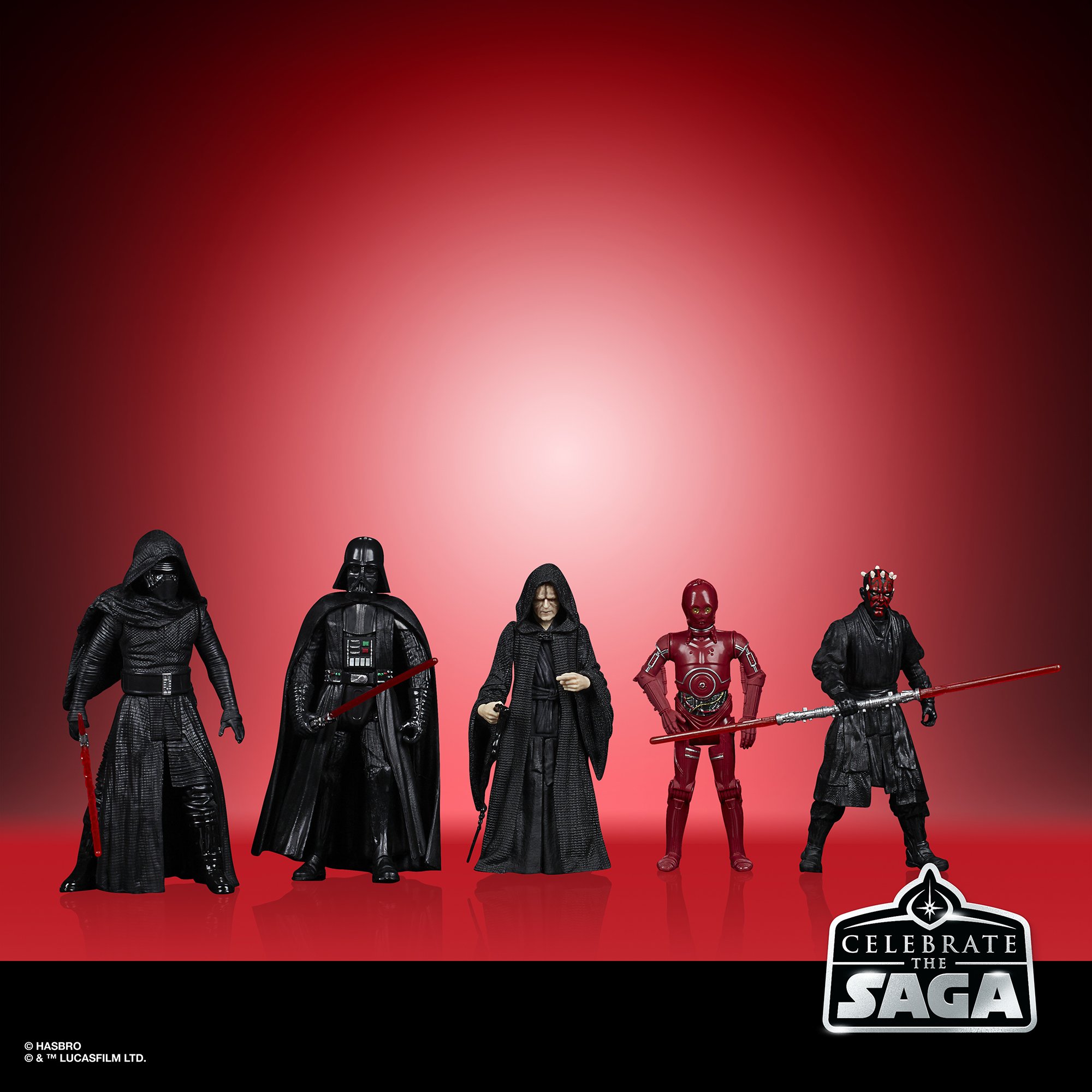 Opposite of the dark side, we have, of course, the light side. Present in the Jedi Order pack are Yoda, Mace Windu, Obi-Wan Kenobi, Anakin Skywalker, and R7-A7. The Galactic Republic pack, meanwhile, includes a 501st Legion trooper, a Phase One clone trooper, a shock trooper, Commander Cody, and OOM-10. The Rebel Alliance pack includes R2-D2, Jedi Knight Luke Skywalker, Chewbacca, Han Solo (Bespin), and Leia Organa (Hoth). Finally, in the Resistance pack, we have BB-8, Poe Dameron, a porg, Rey, Finn, and C-3PO.
If you want to be sure to acquire any of these, some of them are available for pre-order from Amazon, Best Buy, Big Bad Toy Store, Hasbro Pulse, Walmart, and/or Walgreens. With these products spanning multiple eras and including some good variety, there is bound to be something for pretty much everybody. This is how the merchandising side should represent Star Wars.
Source(s):
Star Wars News Net