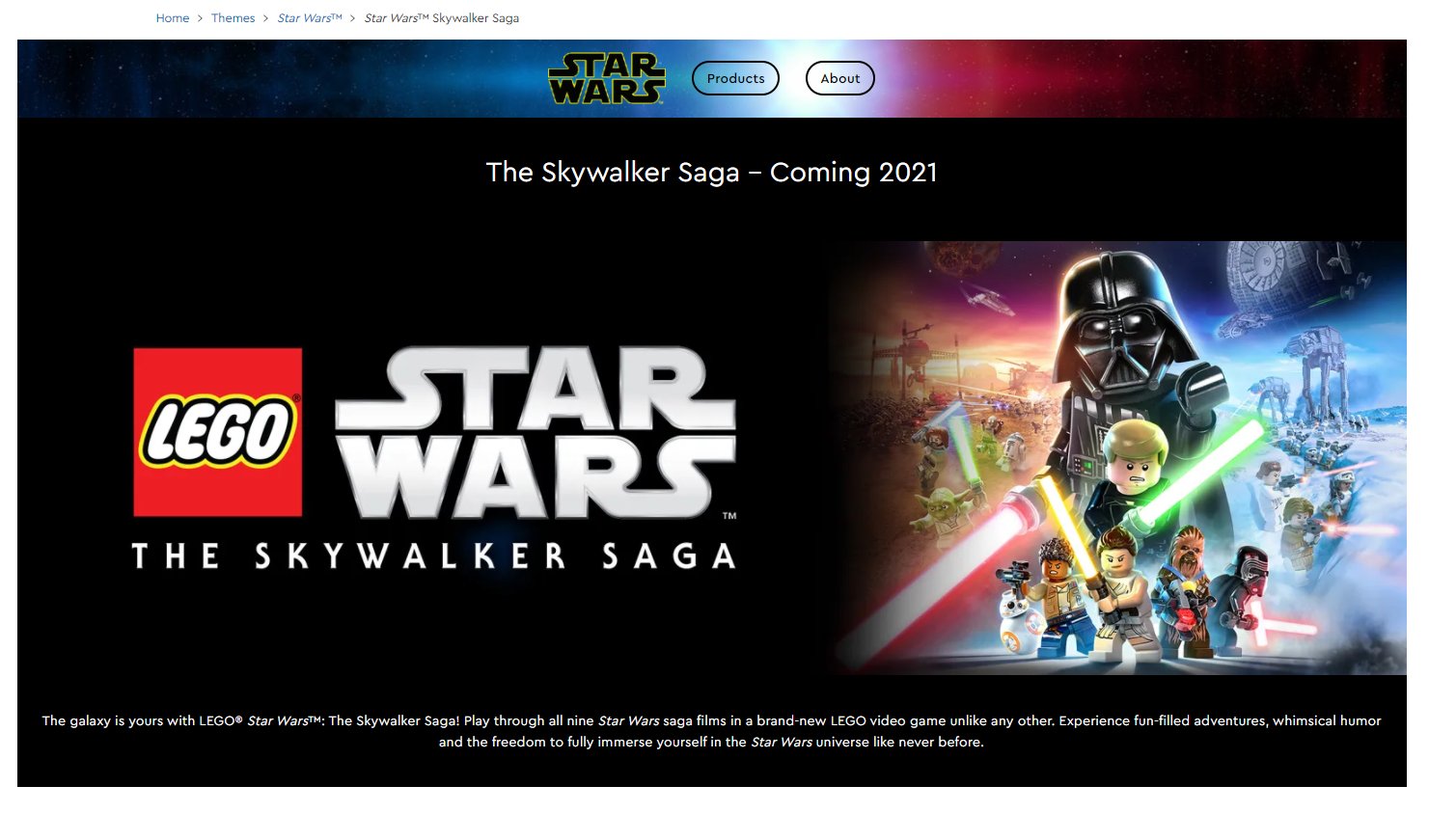 (Screenshot by @Wario64 on Twitter)
LEGO Star Wars: The Complete Saga was previously known to have been scheduled for a release sometime in late 2020. The closer that we have gotten to the end of the year, the less likely it seemed that this would still be the case. With some of the video game delays that have gone on over the last several months, the possibility did not seem like it would be much of a surprise.
Now, it appears that we may have some sort of confirmation that the game has been delayed to 2021. On Tuesday, Lego's website included the following text to accompany the promo image for the video game:
The Skywalker Saga – Coming 2021!
Pure X-Box reported on this around 7:00 PM Pacific. At about 7:45 PM, however, they added an update, saying that "2021" was replaced with the more vague "Soon!" As of the writing of this article, the page for The Skywalker Saga video game contains a 404 error, with the game's promo image currently absent and instead replaced with a panicking Emmett from The Lego Movie.
On one hand, there is a small possibility that the game could still be coming in 2020 and that the 2021 text was just an error. What seems more likely, however, is that Lego may be waiting until Wednesday to officially announce the release date, complete with the month and the day. We know that they are planning on releasing gameplay footage for gamescom that day, so it would make sense to hold off for a day and reveal a specific release date to the world by having it accompany the footage that will be showcased. Once that date is confirmed, it will be all over the web.
If the game is not coming in 2020, that could be a good thing. People may be on a tight budget. With the upcoming release of Star Wars: Squadrons in October, Star Wars gamers will be very busy with that game. It might benefit them to have more time between the releases of these games so that they can plan accordingly and save up. There would not be as many financial concerns. Each of these games would get their own time in the sun. It would be nice to have time to breathe in between the releases of each one.
No matter when the game comes, LEGO Star Wars: The Complete Saga should be worth the wait. As the title entails, it will contain levels pertaining to all nine films that comprise the Skywalker saga. With the upcoming The LEGO Star Wars Holiday Special coming up on November 17, the LEGO Star Wars excitement is very much real. This brand allows for some fun with the characters, and players will surely have fun with the game, whenever it may come. Toys and Star Wars have gone together like peanut butter and jelly for decades, so it is great that we are still getting this combination via LEGO even all these years later.
Thank you for supporting us by reading Culture Slate. We would love to hear your feedback on this topic in the comment section below. Feel free to go follow our social media so that you can stay up to date on all of our articles. You can follow us on Facebook here and also on Twitter here. Additionally, we have a Twitch channel that you can follow here and a YouTube channel that you can subscribe to here. Lastly, if you are interested in writing for us yourself, please do not hesitate to fill out our team member application form here.
Source(s):
The Direct
,
Pure Xbox