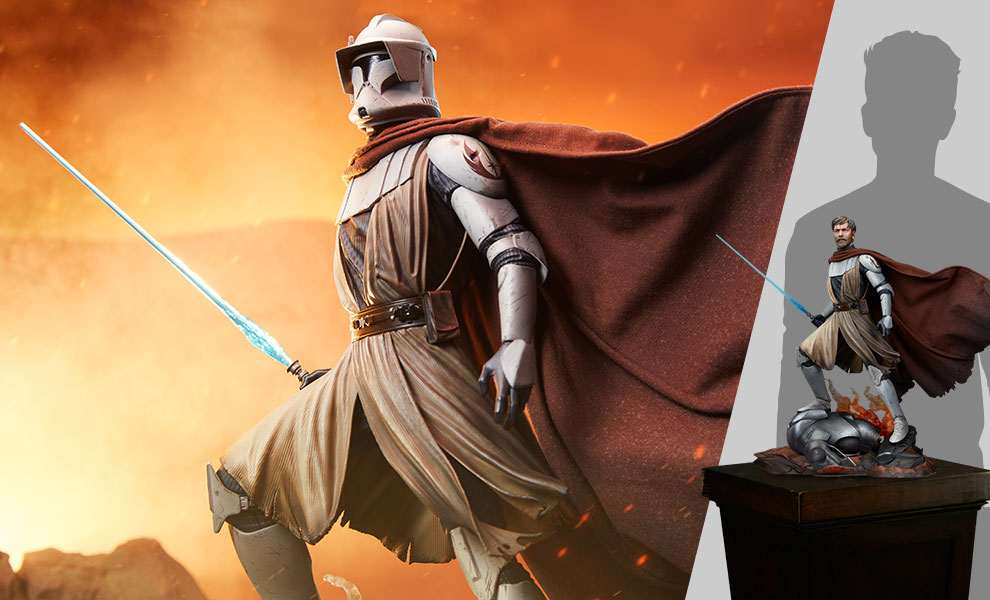 Toys are a huge part of Star Wars, and we have been seeing images of lots of good stuff coming out from different companies. Whether it be the Blacks Series, Funko, Hasbro, Hot Toys, or Lego, Star Wars has been given great treatment from different toy companies. There is a lot of variety that is sure to beat up the wallet of an avid toy collector who has to have it all. Now, there are images of something from Sideshow Collectibles that people will surely love to have or even just look at.
Obi-Wan Kenobi is one of the most popular characters in all of Star Wars. To many, he has, at times, displayed how a Jedi should be. He has been consistently well-portrayed by different actors across media. One of the outfits that is popular among some fans is the clone armor that Kenobi has worn. People who watched the 2003 Clone Wars microseries will remember when Obi-Wan donned this armor on Muunilinst as he faced the Gen'Dai bounty hunter Durge. Kenobi continued to wear clone trooper armor as part of his ensemble for the rest of the microseries. When it came time for the 2008 The Clone Wars TV series, the clone armor made its way onto the series, with Kenobi consistently keeping it as part of his outfit. It has become very iconic. Understandably, Sideshow Collectibles has decided to give the fans what they enjoy seeing.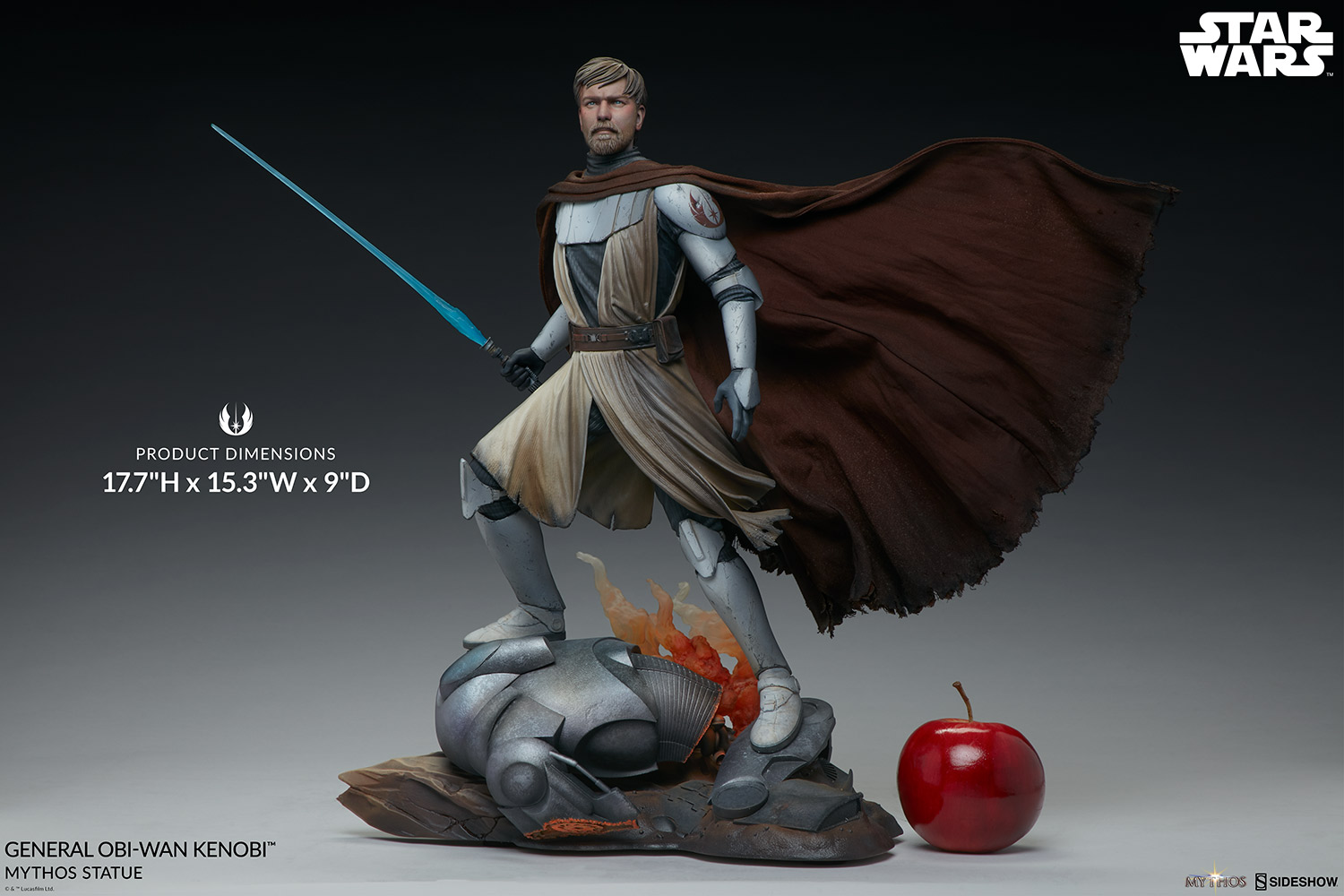 Their new listing is titled General Obi-Wan Kenobi™ Mythos. This statue is 17.7" tall. It is made of polystone and very detailed. The Jedi General stands victoriously on top of a defeated Super Battle Droid that is on fire. To those who love the Clone Wars era, Super Battle Droids are very prominent to the iconography of that era's battles. They have even appeared again within the past year on the live-action TV series The Mandalorian and the animated series Star Wars Resistance. So they have definitely not been forgotten. In fact, those shows made a point to show how menacing these droids can be.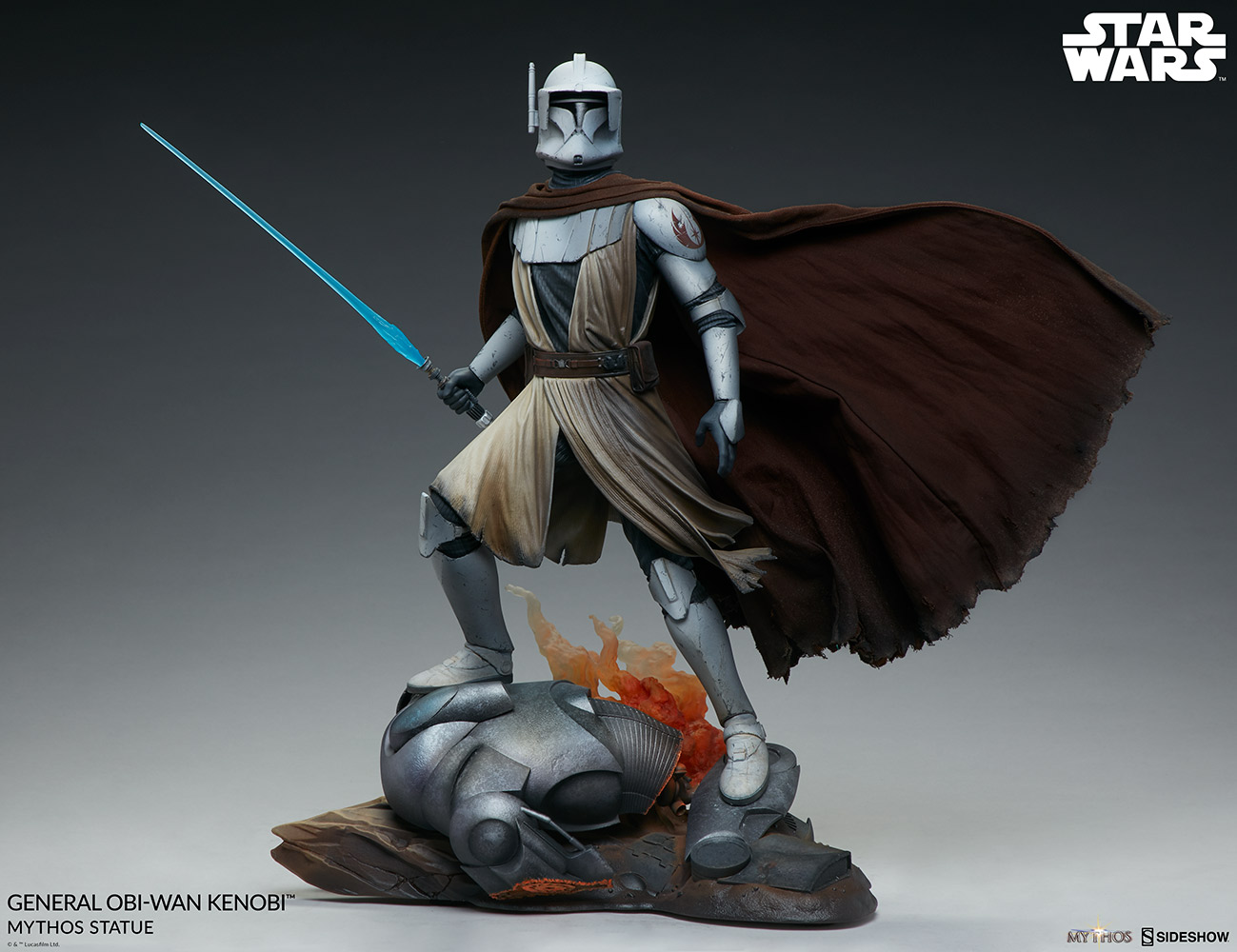 The statue also comes with a clone trooper helmet, which, again, looks very well-sculpted. Regarding Obi-Wan's face, he might not look exactly like Ewan McGregor to some eyes, but the overall look makes it clear that this is, in fact, Obi-Wan Kenobi. Even if it does not look one to one to some, Sideshow Collectibles should be applauded for their effort, and for choosing to depict this Clone Wars-era moment. This is a triumphant moment in time for the Jedi General.
Currently, the statue is listed for $585. There is a limit of two per person. The time of estimated arrival is from July to September 2021. So people would be around a year away from receiving this statue, but it would be worth the wait, especially if you are a huge fan of Obi-Wan Kenobi and the Clone Wars era. If you would like to pre-order this statue from Sideshow Collectibles, you can do so here: https://www.sideshow.com/collectibles/star-wars-general-obi-wan-kenobi-mythos-sideshow-collectibles-200558
Thank you for supporting us by reading Culture Slate. We would love to hear your feedback on this topic in the comment section below. Feel free to go follow our social media so that you can stay up to date on all of our articles. You can follow us on Facebook here and also on Twitter here. Additionally, we have a Twitch channel that you can follow here and a YouTube channel that you can subscribe to here. Lastly, if you are interested in writing for us yourself, please do not hesitate to fill out our team member application form here.
Source(s):
The Direct
,
Sideshow Collectibles