Tidbits That Were Revealed At The Live-Action TV Show Panels From DC FanDome: Explore The Multiverse
The second part of DC Comics virtual convention DC FanDome was available online from Saturday, September 12 to Sunday, September 13. Titled Explore the Multiverse, it had a heavy focus on DC television and also had a few panels about recent and upcoming animated films. Some of these panels were originally scheduled for DC FanDome on August 22 but were pushed back, thus making things more manageable for fans. The panels for The Flash and Titans still dropped on August 22, though the extended versions of those panels were included this time around. (We know that Iris will escape the Mirrorverse in the former and that we will be seeing Jason Todd as Red Hood and Barbara Gordon as commissioner in the latter.) This particular article will focus on tidbits from live-action TV panels that were included in the Watchverse section of the DC FanDome website.
Batwoman
The Batwoman panel had perhaps the most news out of all the live-action TV panels, which was to be expected given Ruby Rose's departure from the role of Kate Kane, which led to the creation of a new Batwoman named Ryan Wilder for the upcoming second season, which is set to premiere on the CW in January 2021.
Naturally, Javicia Leslie, who had been cast as Ryan Wilder, was present at the panel. "When I read the character description, it was definitely me," she explained, noting that Ryan Wilder is a badass person who does not like to follow the rules. Ryan Wilder is a completely new character who has not appeared in other DC media. Batwoman showrunner Caroline Dries explained that Wilder "was a girl who was a statistic of injustice the moment she was born." This fuels Wilder's desire to battle against injustices as Batwoman.
Leslie wanted to try many jobs growing up, so she figured that being an actor would allow her to try everything. She remembered saying that one of her dream roles was to be a superhero, and month later, she became first black Batwoman. Leslie also talked about how she started training in the sport of Muay Thai two years ago. Some of her athletic skills were depicted in an audition tape, some of which was shown at the panel. Dries was impressed with the footage of Leslie flipping tires.
There were no details about the exact fate of the first Batwoman, Kate Kane. However, it seems that Mary Hamilton and Alice's relationship in the show could play out differently in Kate's absence since she was a buffer. Mary and Ryan are both looking for community, so the two characters could mesh pretty well. With Kate Kane gone, things will certainly be different, but having Javicia Leslie on this panel gave fans a chance to get to know her better and know a bit about what to expect from her character.
Black Lightning
Black Lightning will also be coming back in January 2021. Regarding hopes for season 4, Cress Williams said that he would like to see Jefferson Pierce back in the school mentoring kids. Christine Adams, who plays Jefferson's ex-wife Lynn Stewart, said, "I would like to not be drunk or on drugs," prompting laughs from the rest of the panelists. James Remar, who plays Peter Gambi, said that he would like to have his own metapower. He also added, "I'd like to see him maybe have a girlfriend ... Maybe Gambi had a kid he reunites with, having not seen in him 25 years." Nafessa Williams was hopeful that her character Anissa Pierce might marry Grace Choi (Chantal Thuy) at some point. The panel also touched upon how well the show deals with real-life issues pertaining to racism, thus allowing the show to resonate with viewers.
Doom Patrol
There was not much news within the Doom Patrol panel itself. However, we learned just before DC FanDome: Explore the Multiverse that the series had been renewed for a third season by HBO Max, coming sometime in 2021. The panel delved into some of the acting, and how they are not looking at it as just a superhero show. Doom Patrol touches upon trauma, which sets it apart from other shows.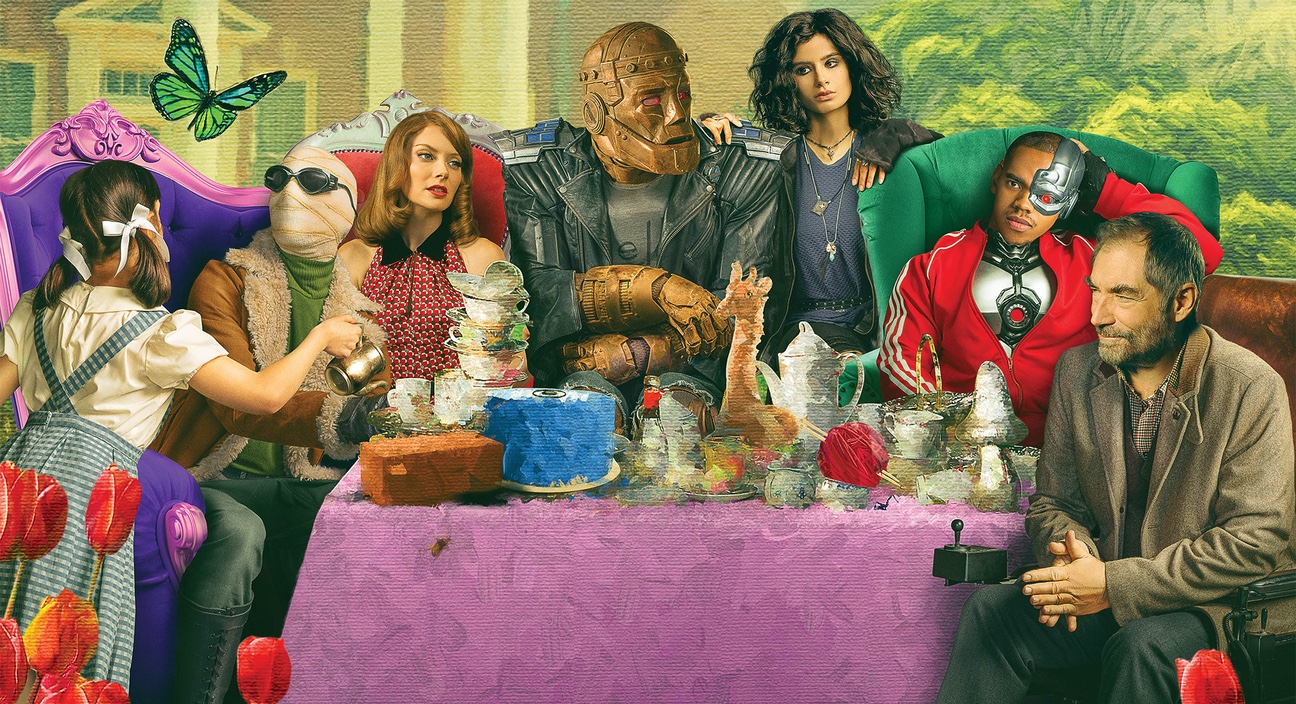 Legends of Tomorrow
With Sara Lance having been abducted by aliens at the end of season 5, producer Graine Godfree said that, with Sara Lance away, "the kids kinda go crazy." Season 6 will introduce a new Legend, described as a young Latinx woman from Texas who had been kidnapped by aliens. Naturally, she wants revenge. Legends of Tomorrow will be doing its own take on the alien genre. The panel also included a fun season 5 gag reel and presented a fun fact, which is that Legends of Tomorrow was originally going to be an anthology series. Season 6 is set to premiere midseason in 2021.
Lucifer
While we do not know when the second half of Lucifer season 5 will drop on Netflix, the panel for the show included a clip from an upcoming musical episode. Lucifer and his fellow investigator colleagues appear to be at the scene of a death in a high school football field. The moment that the words "another one bites the dust" are spoken, everyone appears to be dancing, confusing Lucifer. The panel also included a gag reel. Even though season 5 was initially going to be the final season, Netflix allowed the team to tell one more story via season 6. So even after the current season ends, there will still be more Lucifer content.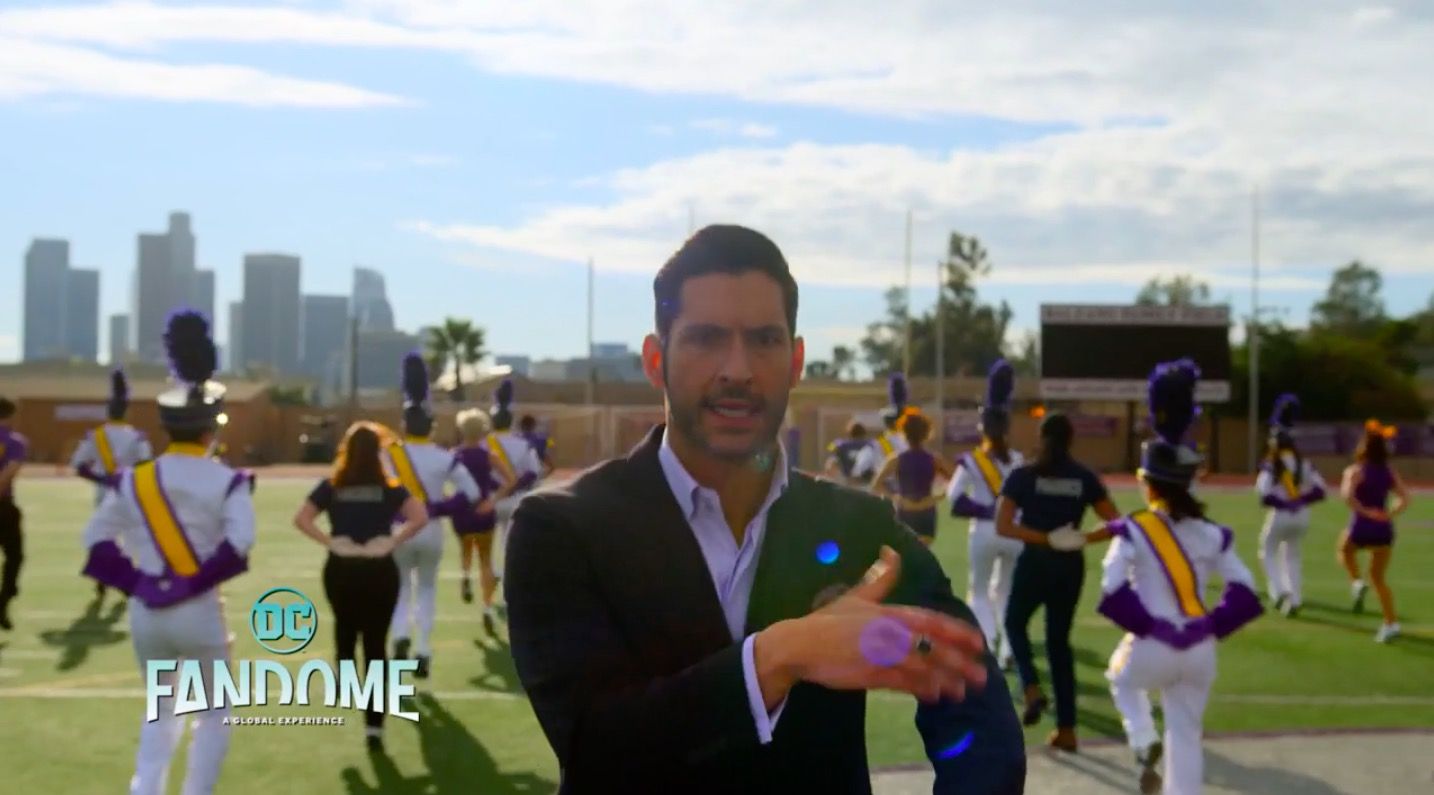 Pennyworth
Pennyworth is a series on Epix focused on a younger Alfred Pennyworth forming a security company in London after serving as a soldier. Together with Martha Kane and Thomas Wayne (future parents of Bruce Wayne) of the No Name League, he goes against the Raven Society. While we do not know when season 2 will be coming, Bruno Heller dropped a tidbit that Martha gets pregnant in season 2. So we it seems that we could be seeing a baby Bruce Wayne at some point.
Stargirl
Stargirl is set to have a second season, which will air on the CW in 2021. Creator Geoff Johns says that there will be more of Solomon Grundy, saying, "He's not gone just yet." The introduction of Eclipso at the end of season 1 will also play into the next season. Anjelika Washington, who plays Beth Chapel / Doctor Mid-Nite, asked about Hootie the owl. "We will definitely be talking about Hootie at some point," Johns added.
Yvette Monreal, who plays Yolanda Montez / Wildcat II, suggested a sequence where there is ballet dancing. Johns joked, "I think that's a great season 9 idea." Cameron Gellman, who plays Rick Tyler / Hourman II, suggested that there should be a villain who makes them dance like Midsommar. "That's a great season 10 idea," Johns replied. Amy Smart, who plays Courtney Whitmore / Stargirl's mother Barbara Whitmore, said that she would like a superpower. Johns' reponse was, "Season 11." The idea of a dream sequence superpower was suggested, and Johns replied, "There is… Well, I don't wanna spoil anything for season 2." The cast suggested that Johns should have a cameo, even just for a second as a superhero, but Johns seemed content just letting the cast do their thing.
Superman and Lois
Superman and Lois is set to premiere on the CW in January 2021. This show will involve Lois and Clark trying to raise their two teen boys. It will lean in a bit on Clark not aging much. Lois' father General Lane looks at Superman like a soldier. Bitsie Tulloch, who plays Lois Lane, described how Lois and Clark are inspirational in how, despite media scrutiny, theystill show up and do their jobs. Tyler Hoechlin said that anyone can be Superman, someone who chooses to do the right thing.
Watchmen Unmasked
This panel focused on the use of masks, particularly within HBO's Watchmen, which aired last year. Series creator Damon Lindelof was present for the discussion of how masks allow for hidden aspects of people to be amplified, such as anger, rage, and catharsis. In his Watchmen show, the masks are used by a white supremacist group called the Seventh Kavalry, as well as the Tulsa Police Department. Masks can actually be terrifying, and Watchmen was very topical in how it delved into issues of racial injustice.
Final Thoughts
Compared to the animation side of DC, it feels like there was more news about live-action DC television. It probably helps that there were more of these in the Watchverse than there were animation panels. For the most part, the TV news did not reach the hype levels of the film and video game panels from last month. The Batwoman panel probably comes the closest because of the show getting retooled, which in itself fuels a lot of curiosity as to how well the show will be executed from here on out. Overall, it was a smart move to push these TV panels back so that they would not be completely overshadowed by last month's panels.
Source(s): DC FanDome