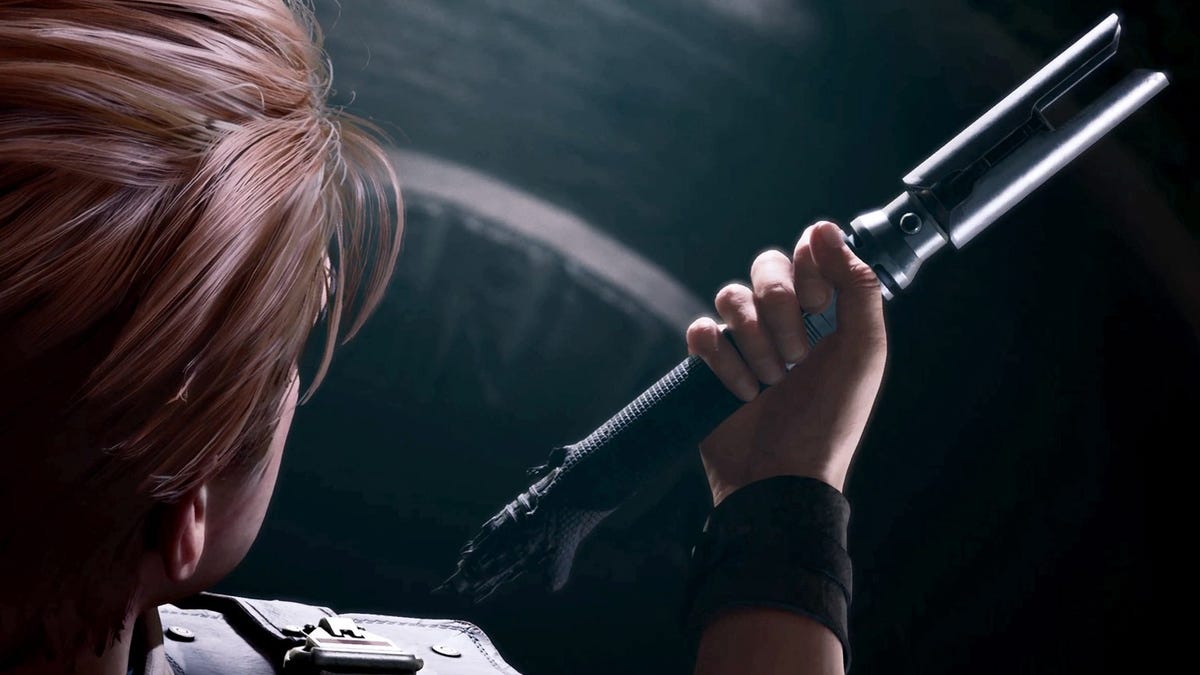 Of all of the Star Wars video games to come out in recent years, none have been as beloved as last year's Star Wars Jedi: Fallen Order. It is the first Star Wars game to actually feel like a complete, immersive Star Wars game since the original Battlefront II, in my opinion. The recent Battlefront games have received mixed reviews from critics and fans alike for its microtransactions. Jedi: Fallen Order was a mega hit, and likely paved the way for Disney to feel comfortable releasing Star Wars: Squadrons. It showed that people could truly love Star Wars games again. With more DLC for the game and a sequel likely in the works, fans will hopefully get more of what they loved about the original game.
One of the things that fans are definitely going to be able to get is the protagonist Cal Kestis' lightsaber. Lightsabers are pure Star Wars awesomeness, and Cal's is particularly unique and, dare I say, cool. Well, a poll was created by Disney to see which lightsaber fans wanted next for purchase at Star Wars: Galaxy's Edge in both Disney theme parks, and Cal's lightsaber won by a mile, taking 40.79 percent of the votes against Qui-Gon Jinn's 19.56, Anakin Skywalker's 12. 37, Lord Corvax's 11.41, Kanan Jarrus' 9.85, and Ezra Bridger's measly 6.02. While it is surprising that Cal beat out such iconic lightsabers as Anakin and Qui-Gon's, it shows how much fans have latched onto this new character, which really shows how good the characterization, writing, and story of Fallen Order really is.
After all, nobody would vote for Jar Jar Binks' lightsaber.
The lightsaber won't be available until 2021, but that doesn't mean that the Disney Parks won't see any new sabers until then. Count Dooku's unique curved lightsaber and the fan favorite Ahsoka Tano's lightsabers will be available this year. With a sequel to Fallen Order probably in the works, it is likely that the demand for Cal's saber will be quite high.
The demand for the lightsaber might also be due to how unique it is. Obviously, in the game, you can customize it, which varies its overall look, but the base is the same once Cal creates his own lightsaber. The customization helps the players create an attachment to the lightsaber in a way that we don't get with other sabers. By adjusting it, as well as choosing the color of the blade, we also feel part ownership of it. By helping create Cal's, we form a bit of an attachment to it, and now that the opportunity has arisen for fans to actually own something that they in some small way helped create, it is a unique feeling when dealing with lightsabers.
We have had Qui-Gon's lightsaber for twenty-one years. We have seen Anakin's since the original film in 1977. That Cal destroyed both of them in the poll is very telling. Who did not have one of those cheap plastic replicas of one of their lightsabers once they started selling them as the prequels were being made?
Star Wars Jedi: Fallen Order showcases a big step forward in Star Wars games. Fans instantly latched onto a game that expanded the lore and added excellent characters while still feeling like Star Wars. It would have been simple to have a fairly blank protagonist for the players to get some wish fulfillment through, but Cal had depth even as we related to him. Obviously, the ability to customize your character's lightsaber is nothing new. (Jedi Academy and the Knights of the Old Republic games being good examples). Not only is Cal's much cooler, but the designs vary more than other games. Now that players have made attachments to not only the character of Cal Kestis, but also his lightsaber, they are not going to miss the opportunity to get one of their own.
Though a lot of people are going to have to wait until the parks are at more than half capacity.
Source(s):
IGN